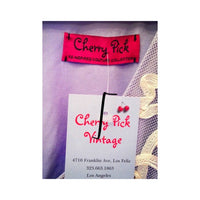 Wardrobe Staples
We search far and wide to gather impeccable sought after pieces that are both inspiring and sure to become your closet favorites.
We also upcycle and recycle clothing discarded and bring them back to life and give them the love and respect they deserve.
facebook
check our etsy page for more reviews!
"I just recieved the gown and it"s gorgeous!!! It fits perfect. Thank you so much i will send you some photo's soon!

Hope to buy Stuff From your shop as soon as possible."

Roberta From Rimini, Italy
"I Just Recieved the Bracelet. It is so classy and so pretty! Thanks so much! If im able to convert it to an anklet ill let you know!"

Fiona T from Hong Kong
'Such a great jacket! I love it!!"

Annora M. Tampa, FL
"boots are to die for! Fit my foot perfect and delivered in great condition" Very Very pleased! Will wear over and over"

Kevyn M. Orange County
"thanks for the beautiful Dress! Fast shipping!

Kati H.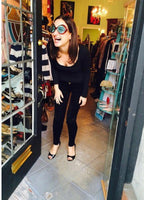 About Us
Cherry Pick Vintage is a Physical store established in 2009 in East Hollywood. The store offers unique and quality gently worn and select vintage wearables and accessories for men and women.
Owned and operated in Los Angeles by Nina Kazé this store is a labour of love and a refuge for artists and local residents that need a pick me up or a fun unique shopping experience in the heart of Los Feliz.
Nina is an avid shopper that has mastered the art of finding the best and most used pieces in any closet.
" I like to think of myself as an agent for under represented clothing and accessories that have quality and rarity in a mass of over produced clothing floating around"
"I don't care who made it or even how old it is...  Whether it is a used forever 21 silk dress made 8 years ago or an Armani that everyone wants.  What is made impeccably will find its way here and be sold at a fair price"
We are currently open tothe public
Mon - Sat
12-6 pm
We offer by appt to those who wish to shop solo.
4710 Franklin Ave
LA, CA 90027
tel 323 663 1863
Looking forward to serving you!